"Neurology for us isn't nerve-wrecking, we comprehend our core competence in the togetherness with our patients."
As neurologists we occupy ourselves with disorders of the brain, spinal cord, perirephal nerves and the muscular system
We assist you with a high level of personal commitment and against the background of a university specialist medical training and continuous further medical education.
The central focus is formed with a personal consultation, where you will find the time to describe your symptoms but also to outline your personality in its entirety.
Alongside a thorough physical examination the whole range of conventional neurological diagnostics is available such brain wave measurement (EEG, electroencephalography), measurement of nerve conduction velocity and muscle currents (neurography and myography) as well as spinal fluid examination.
We maintain a close cooperation with our inhouse radiology practice (computer and magnetic resonance tomography) as well as with all internal disciplines.
After diagnostic analysis it is our aim to inform you comprehensively and in detail about your condition and to provide you with scientifically approved treatment.
You benefit from a neurologic co-supervision during your hospitalization at Klinik Dr. Robert Schindlbeck. Your private health insurance furthermore covers an outpatient care.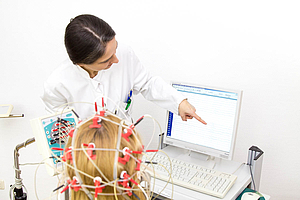 extensive anamnesis and thorough physical examination

EEG (electroencephalography)

EMG (electromyography)

NLG (neurography)

evoked potentials (SEP, AEP, VEP)

neurophsychological basic diagnostics (clinical dementia diagnostics)

cerebrospinal fluid puncture

cooperation with Radiology Practice Herrsching (inhouse): MRT (magnetic resonance tomography), CT (computer tomography), nuclear medical examinations

the whole range of laboratory diagnostics inhouse (Klinik Dr. Robert Schindlbeck)